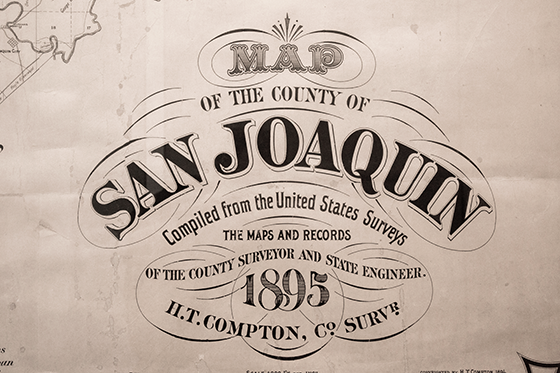 The Recorder's Office offers the public the opportunity to research 168 different types of recorded documents dating back to 1851.
Documents may be viewed at our office, located at 44 North San Joaquin Street, Second Floor, Ste 260, Stockton, CA 95202. The Grantor/Grantee Index includes information from January 1, 1968, to the present.
Document searching is available to the public from 8am to 4:30pm.
Deeds and other official documents before January 1, 1968, are available digitally and on film. A photocopy can be made of the desired document. If necessary, the photocopy can be certified. A list of certified document fees is available online. Certified copies can be submitted in place of original documents for all court proceedings and legal purposes.
Photocopying and Certification Fees
Self-Assisted
$1 per page
Staff-Assisted
$3 per page
Certification
$2 per document
Recorded Maps

Subdivision Maps, Survey Maps, and Parcel Maps of San Joaquin County that date back to 1851 are available for viewing, copying, and certification.

Maps are available in two sizes: 18" x 24" and 11" x 17." Certified copies of maps can be submitted in place of original documents for all court proceedings and legal purposes.

Photocopy
$5 per copy
Certification
$2 per map