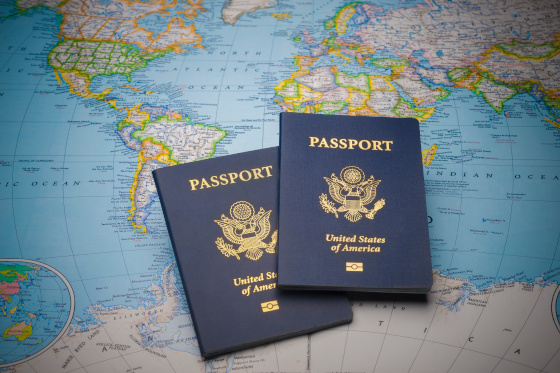 Passport services are conducted by appointment only. All customers must bring a completed an unsigned DS11 form to their appointment. Please click here to book an appointment.
The Office of the Recorder-County Clerk is a designated passport acceptance facility and authorized to receive passport applications on behalf of the U.S. Department of State. Our on-site passport agents can help you submit your passport application correctly to avoid any delays. We also offer passport photos that are printed while you wait. Our office is unable to process passport renewals. Information about how to renew your passport is available on the U.S. Department of State's website.
Customers may apply for a passport book, passport card, or both options. Passport books are valid for all forms of international travel. Passport cards are valid only for travel by land or sea to Canada, Mexico, Bermuda, and the Caribbean. Please visit https://travel.state.gov/content/travel/en/passports/how-apply/processing-times.html for routine and expedited processing times. Expedited processing requires an additional fee.
Required Documents
Proof of U.S. Citizenship
A certified copy of your birth, citizenship, or naturalization certificate, or an expired passport
Proof of Identity
Driver's license, identification card, military ID, or naturalization certificate
Recent Passport Photographs in Color
Available from our office during your appointment
Criteria for Obtaining a Passport
The application requires the social security number only. Showing a physical social security card is not required.
Minors under 16 years of age must show proof of citizenship. Both parents must be present for the appointment and present proof of parentage.
Passport application fees and processing fees are paid separately. Passport application fees must be paid by check or money order and are made out and sent to the U.S. Department of State with your application.
There is a $35 processing fee for each passport application. Payment may be made by check, cashier's check, or money order. Make checks and money orders payable to the San Joaquin County Clerk-Recorder.
Passport Application Fee
Paid to the U.S. Department of State with a check or money order only
Processing Fee
Paid to Recorder-County Clerk with cash, check, credit or debit card, or money order

Adult Applicants (Age 16 Years and Older)

| | | |
| --- | --- | --- |
| Passport Book | $130 | $35 |
| Passport Card | $30 | $35 |
| Passport Book and Card | $160 | $35 |

Minor Applicants (Under Age 16) Valid for Five Years

| | | |
| --- | --- | --- |
| Passport Book | $100 | $35 |
| Passport Card | $15 | $35 |
| Passport Book and Card | $115 | $35 |
| | |
| --- | --- |
| Expedited Service Fee | $60 |
| Paid per application, in addition to application fees. Provides faster processing than routine service. Fee can be paid with a check or money order payable to the U.S. Department of State as part of the passport application fee if requested. This fee is subject to change without notice. | |
| | |
| --- | --- |
| Passport Photos | $15 |
| This fee is payable to the Office of the Recorder-County Clerk with cash, check, credit or debit card, or money order. | |