Changes are coming soon to County residential curbside collection services due to new state regulations. In 2016, the State of California passed Senate Bill 1383 (SB 1383) the "Short-Lived Climate Pollutants Reduction Act." This bill provided for new diversion and recycling mandates that will affect how waste streams are processed and diverted from the landfill. It requires jurisdictions in California to recycle organic waste, including paper, cardboard, yard materials, food scraps, and food-soiled paper and requires the procurement of processed organic and recycled content products. It also includes a business component for delivering edible food items to local organizations for distribution to the underserved, preventing these items from reaching the waste stream. The goal of all this is to divert 75% of organics from reaching the landfill by 2025 through recycling, composting and other methods. Every person and business operating in the State will be affected by these policies.
When organic material breaks down in a landfill, it produces methane, a powerful greenhouse gas that is estimated to be 84 times more potent than carbon dioxide. Landfills are currently the third largest producer of methane in California, with organic waste accounting for roughly 2/3 of all waste going into landfills. Removing organics from the landfill to be processed for compost, energy or other products will reduce greenhouse gas emissions and combat climate change.
SB 1383 sets the following targets:
• Reduce the amount of organic waste going into landfills by 50% by January 1, 2020 and 75% by January 1, 2025.
• Recover at least 20% of currently disposed edible food to be used for human consumption by 2025.
FAQs:
When Does SB 1383 Take Effect?
• January 1, 2022: The State's regulations to meet SB 1383's organics diversion from landfilling and food recovery requirements take effect.
• January 1, 2024: Regulations require local jurisdictions to begin imposing penalties for noncompliance on residents and business.

What type of collection system will I receive?
Residents With Mandatory Collection
Residents that live in the mandatory collection services area of the Unincorporated County will be required to subscribe to collection services that comply with SB 1383. The majority of these County residents will be subscribed to a complete three-cart collection system comprised of a green cart (organics), a blue cart (mixed recyclables) and a grey cart (trash). Some limited areas will be subscribed to a two-cart system that will place recyclables/trash in one can and organics in the other.
Residents With Non-Mandatory Collection
Residents in non-mandatory collection service areas of the Unincorporated County have the option of subscribing to the compliant collection service that the franchised waste hauler for that area provides or may elect to self-haul materials. If residents choose to self-haul, waste streams must be sorted in a manner that is compliant with state mandates and materials must be disposed of at facilities that can process/recycle each waste stream properly.

What do I put in each cart?
Deciding on which bin to put certain items in is based on your collector's collection system. Information on collection systems will be communicated to residents well before these systems are put into place. If you are uncertain which bin a particular item goes into, please contact your collector.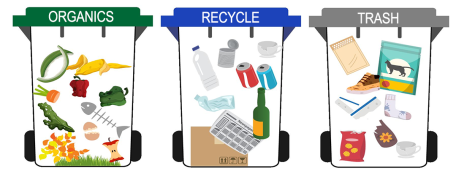 Example of typical three-cart compliant system
Will my rates go up?
Along with this mandated increase in service, there will be an associated significant increase in cost to provide these services. The County is currently calculating the cost of compliance and is in the negotiation process with waste collectors to determine necessary collection rates. This information will be communicated to the public in the coming months.
What is organic waste?
Organic wastes are any wastes or byproducts that come from a plant, animal or living organism including but not limited to food, green material, landscape and pruning waste, organic textiles and carpets, lumber, wood, paper products, printing and writing paper, manure, biosolids, digestate, and sludges, food waste, landscape trimmings (leaves, grass, trimmings, branches, stumps), non-hazardous wood waste, and compostable paper (compostable paper includes food-soiled paper that is mixed in with food waste).
Other Resources:
CalRecycle SB 1383 Implementation Video – A short film that explains the reasoning behind SB1383 and major elements of this legislation:
https://www.youtube.com/watch?v=-enW7SgSt1U
CalRecycle FAQ's - https://www.calrecycle.ca.gov/organics/slcp/faq/
Commercial Business Requirements – Information
Multi-Family Properties - Information
Edible Food Recovery - Information

San Joaquin County December 2021 SB 1383 Mailer - Mailer .pdf