SOURCE: Andrew Rayo, Consumer Education Specialist, FTC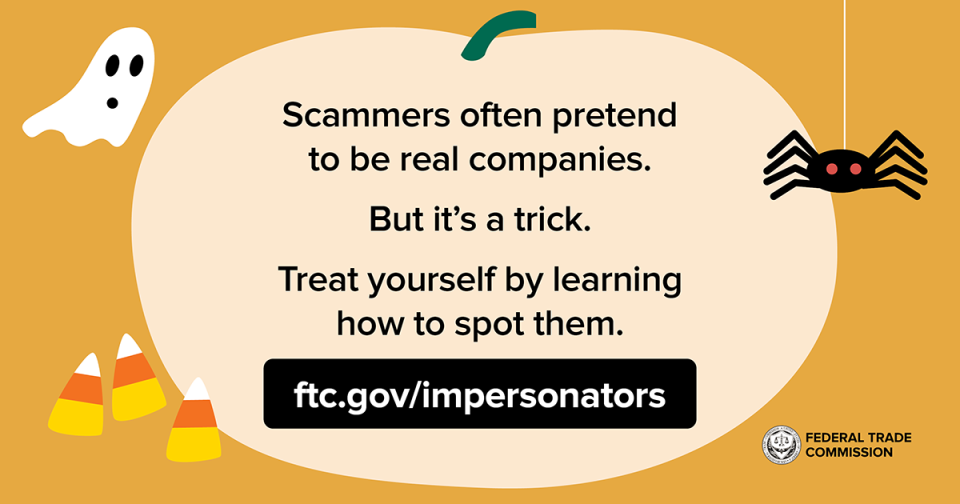 Halloween is almost here. What could be scarier than not having your costume ready? How about ordering a costume online and never getting what you paid for? Scammers are making this season extra spooky by pretending to be real companies like Spirit Halloween and Party City. But it's all a trick. Here's what to know.
You see an ad on Facebook or Instagram that looks like it's from a company like Spirit Halloween or Party City, promoting a huge clearance sale for "90% off" last year's stock. It might look like an incredible deal — but the ad's a fake placed by scammers. And if you place an order, you'll end up with a counterfeit item, an item with wear or damage, something completely different than what you ordered…or nothing at all.
So, if you're shopping online for Halloween costumes, decorations, or party favors, how do you spot the impersonators?
Know that scammers can make ads look like they're from a real company by using the same name and logo, even though they're not actually legit. If you see an ad for a company you know but you're not sure the ad is real, visit the company's website using a link you know is official — not the link in the ad.
See what people are saying online. Search the company's name online plus the word "scam." It's possible someone else has experienced a scammer pretending to be a real company.
Pay by credit card. If you're charged for an order you never got, or for a product that's not as advertised, contact your credit card company and dispute the charge.
Learn more about business impersonators at ftc.gov/impersonators. If you suspect a scam seller, tell the FTC at ReportFraud.ftc.gov.