GLASSY-WINGED SHARPSHOOTER COUNTY EFFORTS
---
TRAPPING AND DETECTION PROGRAM IN SAN JOAQUIN COUNTY
In April 2000 the Agricultural Commissioner began an aggressive trapping and detection program, funded by the California Food and Agriculture Department. The countywide trapping program is part of a statewide effort by the CFAD to detect and manage the Glassy-winged Sharpshooter on a statewide basis.


SUMMARY OF TRAPPING AND DETECTION PROGRAM
Trapping: April through October. Traps deployed in April and serviced every two weeks through October. Traps replaced when necessary.

Urban Areas-690 traps
Retail Nurseries-91
Wholesale Nurseries-2,000
Cropland-95
Wineries-28
Total traps set-2,904

Survey: Visual inspections of foliage for egg masses; visual inspections and sweeps using aerial nets for adults. Surveys begin mid-April and continue through summer.


SITES
Retail Nurseries-91 traps
Wholesale Nurseries-28 traps-1,000 acres
Cropland-11,425 acres
Urban Area Sites-25 traps-1,000 acres
Total number of sites-144
Total number of acres-13,425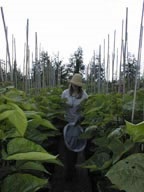 A trapper visually searches the rows of plants to determine if any GWSS can be seen. © Photo: C. Cassinetto, SJ County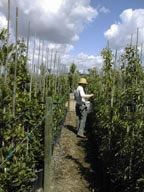 Trappers check each plant for egg masses and adult insects. © Photo: C. Cassinetto, SJ County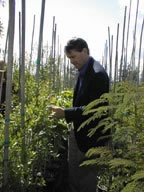 The agricultural commissioner, Scott Hudson, inspects plants at a wholesale nursery for GWSS. © Photo: C. Cassinetto, SJ County.

A sticky trap collects a variety of pests in the field, including Glassy-winged Sharpshooters. Photo: Kate Campbell, CFBF