Thank you for visiting the webpages for 5th District, San Joaquin County. Here you can find some biographical information about me, my board and committee assignments, a map outlining the boundaries of 5th District, some news highlights, and other items. The 5th District covers south San Joaquin County, and includes Escalon, Mountain House, Ripon, Tracy, and associated unincorporated areas. For people coming from Silicon Valley (the Bay Area) and the Central Valley, the 5th District is the gateway to San Joaquin County. Please take a moment and learn about the advantages of being located here in San Joaquin County.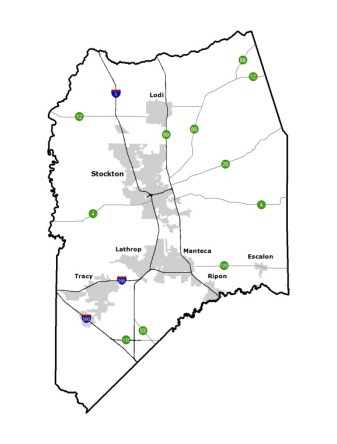 San Joaquin County is a great place to live, raise a family, locate a business, or just to visit. The county is located in the San Joaquin Valley and is crisscrossed by major highways heading north, south, east, and west, making it easy to travel to the mountains, to the Pacific Ocean, or to any other favorite California destination. What's more, San Joaquin County is a destination in and of itself. There is plenty to do right here, including water skiing or fishing on the Delta, seeing a minor league baseball game with the or hockey game with the , wine tasting of award winning wines at our numerous wineries, experiencing the arts at the , inner tubing down the , seeing the animals at , or enjoying one of our many seasonal festivals.
San Joaquin County offers businesses a unique locational advantage for sourcing agricultural production, site specialized manufacturing operations, and low cost distribution to North American and Asian markets with backhaul opportunities. The and , as well as the and BNSF Inter-Modal truck to rail services, offer businesses the transportation flexibility to take advantage of a wide range of business expansion opportunities in a region that is projected to double in population in the next 30 years. In 2021, the of .
Located adjacent to Silicon Valley, San Joaquin County is also linked to the world's greatest technology economy. We call ourselves "Greater Silicon Valley." High Technology companies such as Amazon, Tesla, and FedEx have recently located advanced distribution and production within San Joaquin County in such strategic locations as Tracy, Lathrop, and Manteca. We invite you to join us and "grow" your business opportunities in San Joaquin County.
San Joaquin County boasts several opportunities for higher education. We are home to the Tigers of the
(one of the oldest private institutions on the west coast), , , and . There are also a considerable number of trade schools throughout the county.
We have exceptional school districts. Kimball High School ranked in the top 27 percent of the nation's high schools in the
for strong state test performance by students. Tracy High School and Wanda Hirsch Elementary School have been named California Distinguished School's in recent years. And, nearly 91 percent of high school students at Tracy Unified graduate with a high school diploma and go on to four-year universities. In August of 2014, , which serves the town of Mountain House, opened Mountain House High School and Altamont Elementary School. The District invested resources of $130,000,000 to develop these technology based school's that will serve this community's youth well into the future.
San Joaquin County is one of the most agriculturally rich regions in California. Traditionally, San Joaquin County has consistently led the state in the production value of many crops. Our most recent (2020)
was $3,031,279,000 a 15.79% increase over the previous year. You'll want to stop at one of our many roadside fruit stands to enjoy fresh produce from a local farm. Our county has also become known as . You can find located from Tracy to , which has made us a popular destination for tourism.
As you can see, there is much to do in San Joaquin County. You are sure to find it a desirable place to live, work, play, and raise a family.
As the San Joaquin County 5th District Supervisor, my priorities are to address the rising cost of living, develop common sense solutions for homelessness, reduce traffic congestion, expand economic development and opportunity, and ensure our neighborhoods are safe.