Claim for Refund / Correction of Taxes
Examples of requests that the Tax Collector will deny
There are no provisions in State law permitting Treasurer-Tax Collector to waive penalties in the examples below. Requests to waive penalties for the reasons below will be denied:
I did not receive a tax bill (RTC 2610.5, 2610.6, 2910.1).
I thought my mortgage company was going to pay.
My bank did not make the payment until after the deadline.
I have paid on time in the past for many years and think I should not be penalized this time.
Payment arrived after delinquent date with no postmark from US Postal Service ( RTC 2512).
I cannot afford tax payment.

I am new homeowner and I did not know I owed taxes.
CLAIM FOR REFUND / CORRECTION OF TAXES FORM
How to submit a claim for refund / correction of taxes form digitally
Please note that you should submit a separate claim for each refund you are requesting.
For example, if you are asking for refunds on five different properties you will need to submit five different claims.
Go to the digital submission page here.
Read the cover page and ensure that your situation qualifies for a refund.
Click the next button at the bottom of the page.
Fill out the identifying information.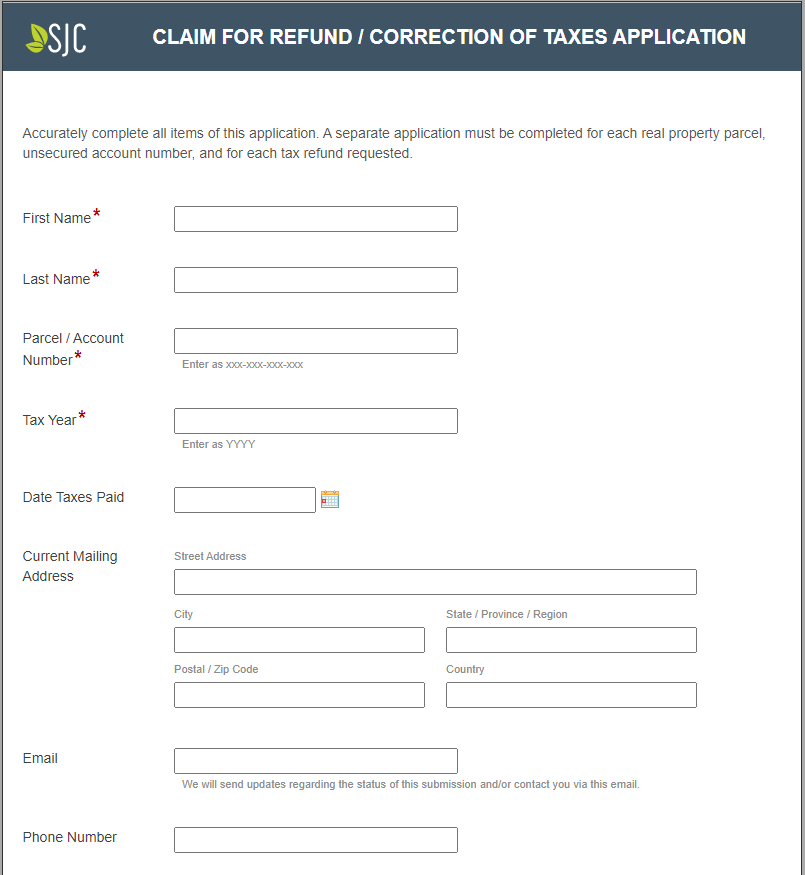 Fill out the section detailing what charges you believe should be refunded.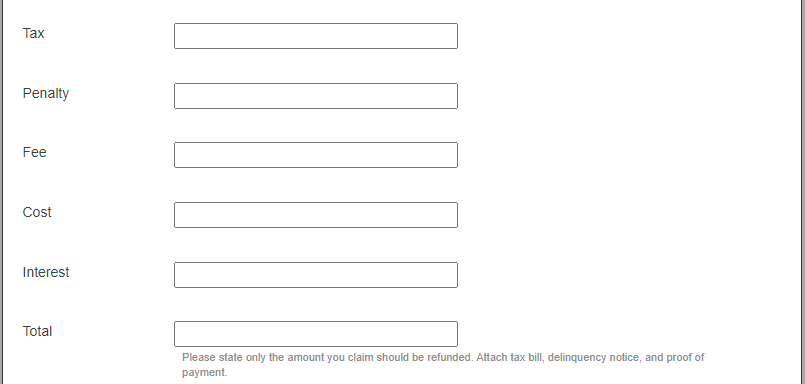 Write explanation of the situation and why you believe you qualify for a refund. Include as much detail as possible.
Upload any documents that support your claim.
To upload click the upload button.
Navigate to the location on your device where you have the documents stored.
Select the item and click open.
There is no limit to the amount of supplemental documents you can upload.
If you do not have a scanner to create digital documents we can accept pictures of documents as long as they are legible. There are also many phone applications that can create PDFs using your phone's camera.

Fill in the signature section.
By filling this in you agree under penalty of perjury that the information submitted is true, correct, and complete.
Click the Submit button at the bottom to send the claim to our office for consideration.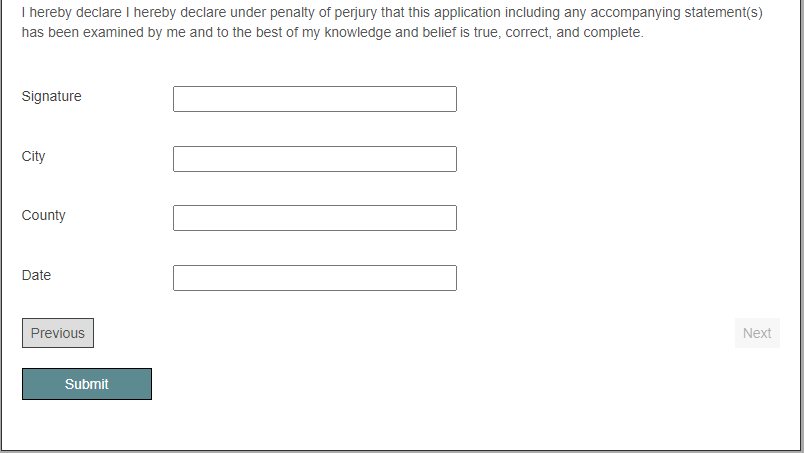 If the request is denied, the taxpayer will receive notification that the penalties are due and payable.

If you are unable to submit a from digitally you can fill out a paper form and either mail it or return it to our office in person.

SJCTTC
44 N. San Joaquin St. Suite 150
Stockton, CA 95202