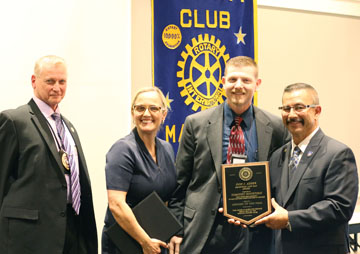 L to R: Chief of Investigations David Derksen, District Attorney Tori Verber Salazar, Investigator Tim Novetzke, Manteca Rotary Presenter
It is the honor and privilege of the District Attorney's Office to announce DA Investigator Tim Novetzke was the recipient of the 2017 Manteca Rotary Officer of the Year Award at their annual ceremony on Thursday, May 4th. Each year the Manteca Rotary recognizes Peace Officers throughout San Joaquin County for their outstanding service to our community.
Tim was previously employed by the Modesto Police Department for over 10 years before being hire by our office in 2008. Since his tenure with our office he has worked a multitude of complex criminal investigations, and assignments in the IMPACT Unit and as our Investigative liaison for Duel Vocational Institution in Tracy. He is currently assigned as DAI's Range Master/Training Coordinator, and oversees our safety equipment purchasing and maintenance. Throughout his law enforcement career Tim has consistently maintained a high professional standard of service and ethics, and has proven to be an outstanding member of our team. Please join us in congratulating him on his well-deserved award.