Romance scammers tell all sorts of lies to steal your heart and money, and reports to the FTC show those lies are working. Last year's romance scam numbers looked a lot like 2021 all over again, and it's not a pretty picture. In 2022, nearly 70,000 people reported a romance scam, and reported losses hit a staggering $1.3 billion. The median reported loss: $4,400.
These scammers pay close attention to the information you share, and don't miss a beat becoming your perfect match. You like a thing, so that's their thing, too. You're looking to settle down. They're ready too. But there is one exception – you want to meet in real life, and they can't. Reports show their excuse is often baked right into their fake identity. Claiming to be on a faraway military base is the most popular excuse, but "offshore oil rig worker" is another common (and fake) occupation. In short, there's no end to the lies romance scammers will tell to get your money.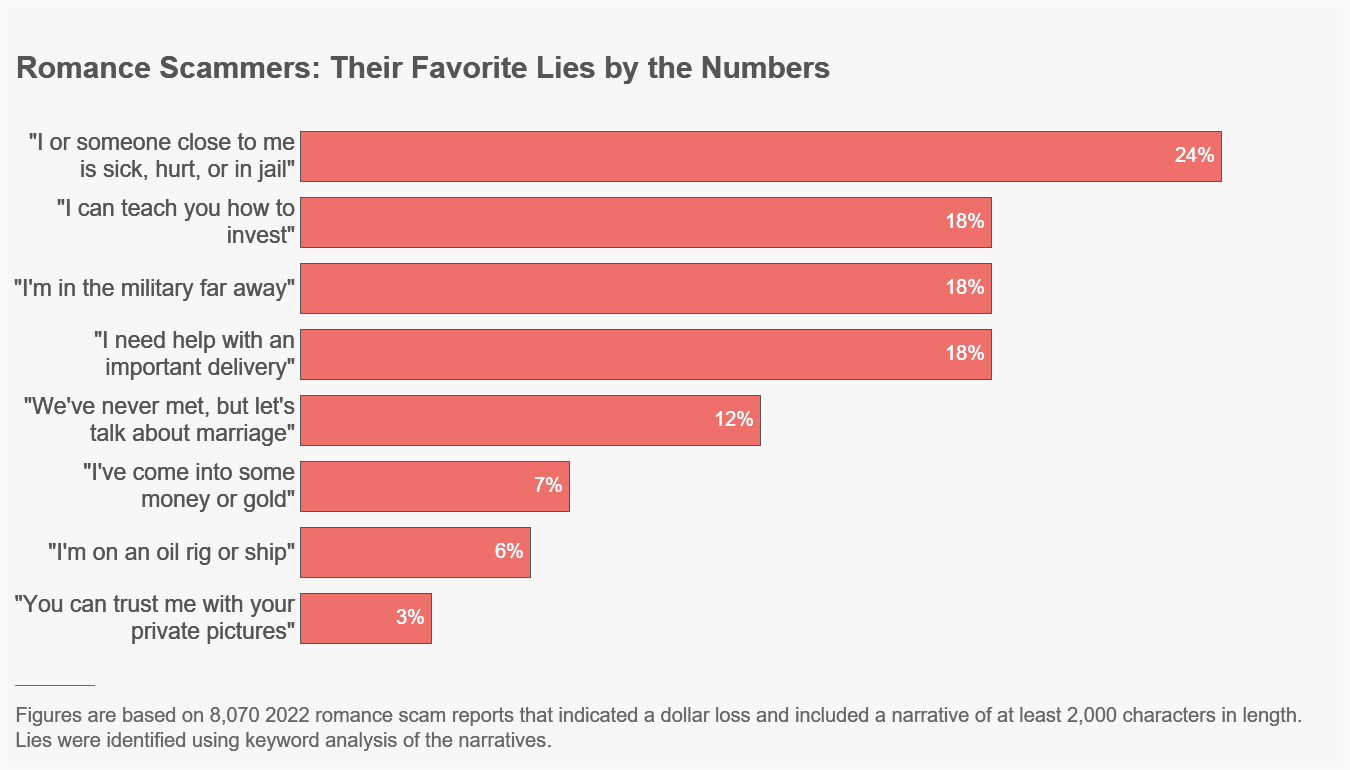 Reports show romance scammers often use dating apps to target people looking for love. But reports of romance scams that start with unexpected private messages on social media platforms are even more common. In fact, 40% of people who said they lost money to a romance scam last year said the contact started on social media; 19% said it started on a website or app. Many people reported that the scammer then quickly moved the sweet talk to WhatsApp, Google Chat, or Telegram.
You may have heard about romance scammers who tell you they're sick, hurt, or in jail – or give you another fake reason to send them money. But did you know that many romance scammers operate by offering to do you a favor? They may claim to be a successful cryptocurrency investor who'll teach you how it's done. But any money you "invest" goes straight into their wallet. In another twist, they might say they've shipped you a valuable package (not true), which requires you to send money for "customs" or some other made-up fee. It's all a lie. You send the money, and the package never turns up.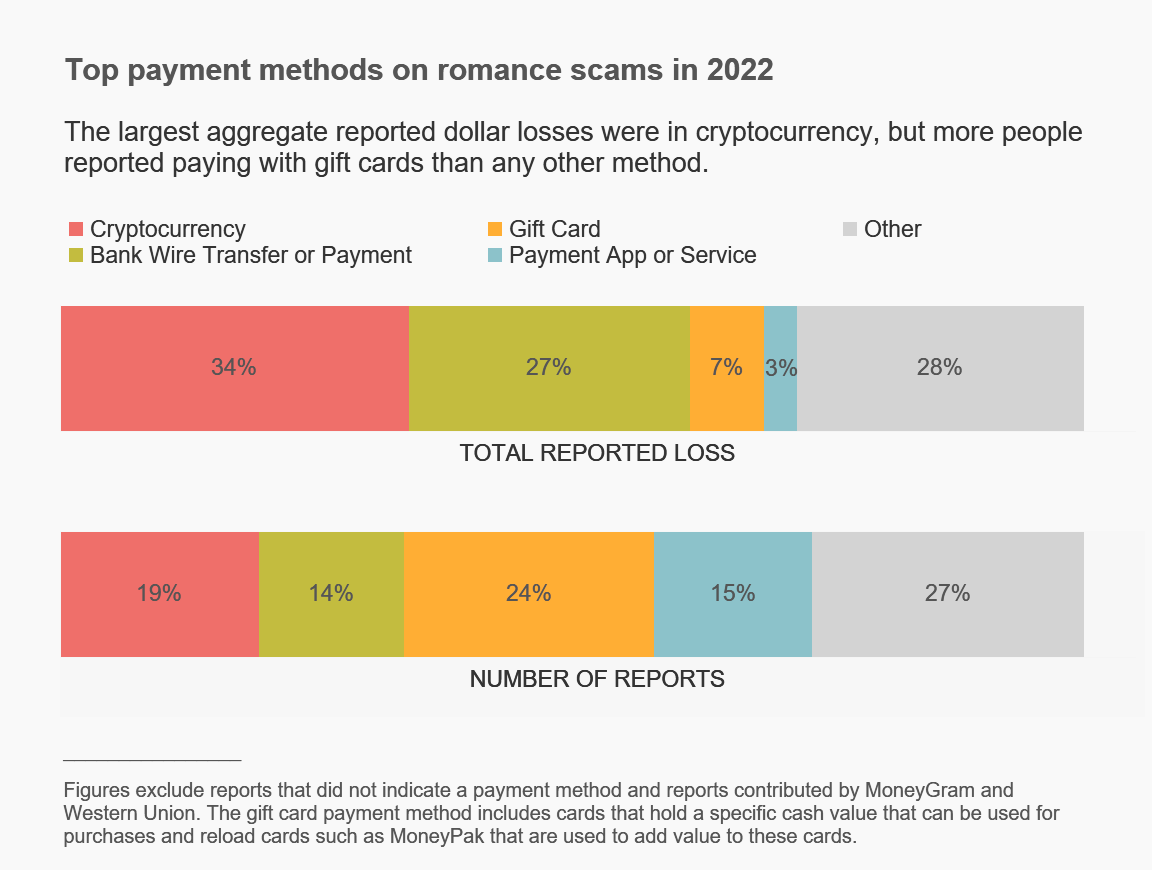 Reports also show that scammers who convince you to share explicit photos will then threaten to share them with your social media contacts. It's called sextortion, and these reports have increased more than eightfold since 2019. People aged 18-29 were over six times as likely to report sextortion than people 30 and over. About 58% of 2022 sextortion reports identified social media as the contact method, with Instagram and Snapchat topping the list.
The way romance scammers take your money is another important piece of the story. People reported sending more money to romance scammers using cryptocurrency and bank wires than any other method: together, they accounted for more than 60% of reported losses to romance scams in 2022. While not the costliest payment method, gift cards were the most frequently reported – 24% of people who reported losing money to a romance scam in 2022 said it was taken using gift cards.
So how can you spot a romance scammer in the act?
Nobody legit will ever ask you to help—or insist that you invest— by sending cryptocurrency, giving the numbers on a gift card, or by wiring money. Anyone who does is a scammer.
If someone tells you to send money to receive a package, you can bet it's a scam.
Talk to friends or family about a new love interest and pay attention if they're concerned.
Try a reverse image search of profile pictures. If the details don't match up, it's a scam.
Help stop scammers by reporting suspicious profiles or messages to the dating app or social media platform. Then, tell the FTC at ReportFraud.ftc.gov. If someone is trying to extort you, report it to the FBI or your local law enforcement agency. Learn more at ftc.gov/romancescams.